COMPRESSED EARTH BLOCK TRAINING OPTIONS
ONLINE TRAINING
Learn at your own pace from the comfort of your own home!
This online course provides you with the fundamental knowledge necessary for making quality Earth Blocks. Understanding your soil is key to your success. The testing procedures and soil science guidelines covered will unlock your ability to build quality structures with the dirt beneath your feet.
With this course you will soon have the ability to use the materials beneath your feet to build solid Earth Block structures.
OUR TRAINING CENTER
Onsite Lodging and Meals Available
All skill levels are welcome!
PLEASE NOTE:
We are enforcing strict COVID-19 preventative guidelines to keep all participants safe.
Learn more below:
Our industry leading trainings bring you the latest in compressed earth block technology. This training opportunity provides the most comprehensive skills in soil selection, mix design, block production, and building techniques with the unique V-Lock Block produced by the BP714 Earth Blox machine. In addition, we will also have our industry leading hand press technology onsite for the training. This will provide you with a variety of compressed earth block equipment options to fit your project needs. The compressed earth block training will be held at:
Highland Lakes Camp & Conference Center
5902 N. Pace Bend Road,
Spicewood, TX 78669
Worry Free Onsite Lodging and Meals Available – Learn More Below
Great earth block learning opportunity
Learn more about compressed earth block production and construction.
Firsthand experience in building with the Dwell Earth building system.
Intensive 5-day CEB training program that includes:
Soil & aggregate selection
Machine operation & maintenance
Soil & block testing
Block production & curing
Building plan layout
Building methodology
Advanced building techniques
Wall finishes
Individualized attention
Certificate of training
Course materials – each participant will receive a Dwell Earth manual
+$525 for each additional participant (up to 2).
Travel and accommodation not included.
May 24-28
Nov 1-5
__________
Training site just west of Austin, TX!
Highland Lakes Camp & Conference Center
Onsite Lodging and Meals Available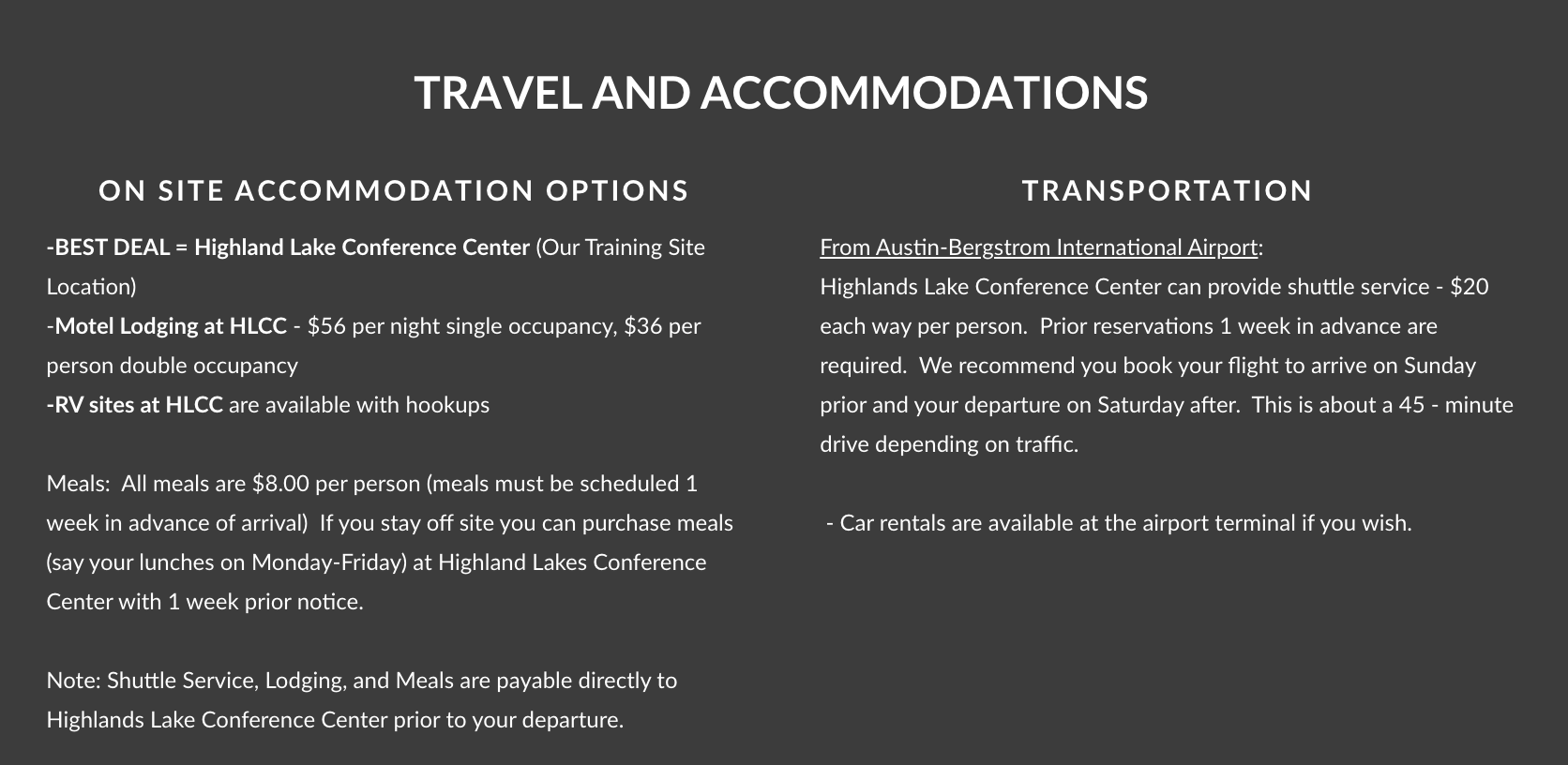 Dwell Earth is committed to the success of your project! We realize that each organization and project have diverse priorities. The first step toward your success is our attention to listening and fully understanding your goals and needs. Once we determine with you your priorities, we will work with you to design a comprehensive compressed earth block training program to help insure your success. We believe that innovative methods to build better structures fueled by sustainable business is essential to making an impact on worldwide housing shortages. Dwell Earth offers customized training programs that can be provided in-country or at our training center near Austin, TX.
"I assumed I did not really need the class on making and building Earth Block buildings but the experience I gained and the science of making good blocks is invaluable." - Bob (Ohio)
"Coming to this class gave me the knowledge and the tools to be able to implement good practices to make strong Earth Blocks propelling this beautiful method of building forward." - Colton (Haiti)
"A great learning experience. Practical, educational, useful tools to live with forever. Provides empowerment to pass on." - June '16 Training Student
"I thought the Earth Block Training was well thought out and well presented." - Tom (Mexico)
"I came to the Dwell Earth Earth Block Training fairly knowledgeable of building with earth. The knowledge and experience of the training team is state of the art." - Bob B. (Texas)
"The Soil Analysis Kit is very detailed and will be very helpful in determining soil quality at different locations." - June '16 Training Student
"The construction training is fantastic with both classroom and field training." - June '16 Training Student
"This is a testimony that the Dwell Earth building technology is a game changer for many developing nations including my own nation of Liberia." - David S. (Liberia)
"We learned so much in 1 week because everything was already set up and ready to go so we could focus on the skills efficiently." - Jesse (Liberia)
"This training was more than worth it!!!" - April '16 Training Student
"I feel very prepared to use this machine and building technique in Liberia after training with the Dwell Earth team. Thank you so much!" - April '16 Training Student
Very good, completely satisfied by the information provided, theoretical and practical. It was really worth the investment and I know it will be useful to develop my project.
"I was extremely pleased with the training. It was very well organized." - Allen (Cambodia)
"I loved your training. I have been a traditional adobe builder for 35 years and really enjoyed learning this new (to me) system using earth to build with. Thanks for your great efforts and hard work for our behalf." - Dave (Colorado)
"Great week of training. Learned a lot. Good mix of classroom and hands on learning." - June '16 Training Student
"The Dwell Earth guys made it a great week!" - April '16 Training Student (Haiti)
ONSITE EARTH BLOCK TRAINING
2 weeks of training on your site
EARTH BLOCK TRAINING PROGRAMS INCLUDE:
Raw material selection
Guidance on soil testing
Making appropriate raw material mix
Block production
Optimizing block production output
Block testing for strength and essential technical parameters
Dwell Earth V Lock Block interlocking construction technique
Equipment solutions
Machine operations and maintenance
TECHNICAL ASSISTANCE
Dwell Earth is readily available for on-going guidance and technical assistance. We are committed to a long-term relationship to support your success.
Quality management
Optimizing costs
Optimizing the raw material blends
Exploring options for increased block production
Discovery of additional improvements in quality and construction efficiencies
Identify marketplace strategies for business development
Assistance in developing financial models and tools to show marketplace advantage over more traditional building materials
Collaborative assistance for accessing capital to expand business
We provide each client with a comprehensive training and reference manual for effective implementation.